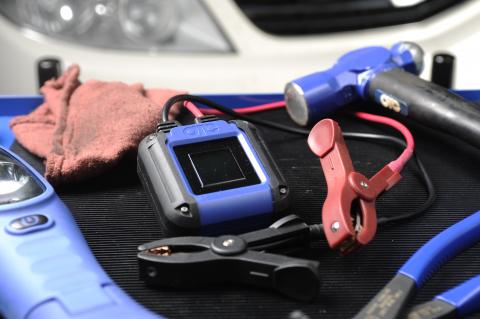 As auto manufacturers continue to work toward meeting more stringent fuel requirements mandated by the government, your customer's batteries are paying part of the price.  OEM's are taking every possible load they can off the engine in order to maximize fuel economy.  Unlike two to five years ago, alternators are no longer continually charging batteries like they used to. Today's ECM's monitor the battery and only use the alternator to charge when needed, allowing the battery to drain and then recharge—adding strain. Another piece of technology that is placing additional stress on vehicle batteries these days are the start/stop systems found in a growing number of vehicles. 
Due to the battery workload realities, it is more important than ever for shops and technicians to check and inform their customers on battery health. The OTC 3200 allows technicians to easily and quickly diagnose battery health while providing their customers a comprehensive and easy to read, report.
Utilizing the 3200 paired with an iOS or Android smart phone or tablet, along with the free downloadable OTC 3200 app, technicians are able to:
•Test battery float voltage and cold cranking amps (Wet and AGM) in less than 10 seconds
•Test battery cranking health and charging systems in less than 20 seconds
•Deliver a comprehensive, full color report regarding the health of the vehicle's battery that is easy for customers to read and understand. The report can be saved to the client's file for future visits, emailed to customers or printed in less than two minutes. 
The 3200 simply clips on the battery terminals and displays voltage and CCA, prompting you to turn the engine over to test the starting and charging systems.  Use a smart device to read the QR code for a full report to show your customers. The app even features an automated VIN scan function to determine the vehicle's VIN and vehicle specifications, and the ability to scan the batteries bar code and gather its operating specs.
A recent examination of one shop found that 30% of the batteries that came through its service bays were not performing optimally. The 3200 is a powerful tool that can help you generate shop revenue while driving customer satisfaction, retention and conversion.