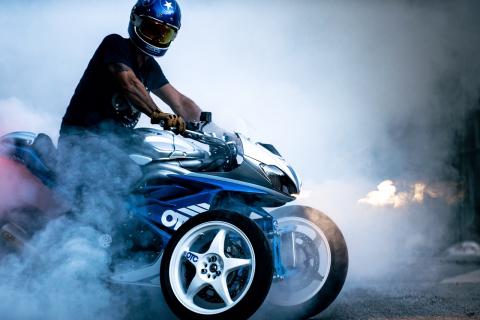 Bryan Fuller, TV personality and owner of Fuller Moto, has finished his build of the OTC Triple Speed three-wheeled leaner. Utilizing OTC's latest line of motorcycle service tools, Fuller and his team converted a Triumph Speed Triple into a one-of-a-kind performance leaning three-wheeler. The project was first announced at the 2013 AAPEX show in Las Vegas.
Fuller's team chose to convert a Triumph Speed Triple because of its reputation as a top performing sport bike. Still boasting its original 1050cc DOHC inline triple engine that produces 133 horsepower and 81.9 lbs.-ft. of torque mated to a 6-speed gearbox, the Triple Speed retains its sport bike prowess. 
Using patented technology from TreMoto, the Speed Triple was specially converted to handle and lean like a traditional two-wheel sport bike. Bryan Fuller and his team worked with TreMoto throughout the build process to ensure the Speed Triple maintains its revered riding capabilities as a three-wheeled sport bike.
"Converting a Triumph into a high performance sport trike is a fabricator's dream," said Fuller.  "The Triple Speed concept will provide the best of both worlds.  It will be agile, nimble and perform like a traditional two-wheeled sport bike, with the added stability of a three-wheeled trike."
The build, which took approximately 14 months, included reengineering the Triumph's front end to accommodate two wheels and the increased weight of the new independent suspension and steering components. The new steering allows the trike to lean up to 30 degrees left and right. The brakes were also upgraded to include a Beringer super light performance braking system and ARP 12-point stainless steel fasteners. Fuller's team installed a custom Arrow exhaust to help the Triple Speed breathe and perform better. The original drive train, engine and rear wheel will remain unchanged.  
OTC and Fuller Moto will bring the "Triple Speed" to major industry shows in  2015, including AAPEX, tool and equipment distributor expos, Barber Vintage Fest and the Performance Racing Industry show. 
More information about the Triple Speed can be found at www.OTCTools.com/TechniciansCorner where updates will be posted on the build progress along with photos.