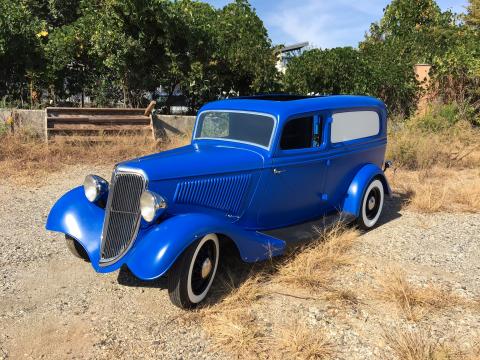 Fabricator, welder, building, designer, business owner and all-around  motorhead Bryan Fuller teams with OTC to build a throwback tool truck. Inspired by the original 1920's OTC salesmen, Fuller reimagined the delivery into a modern, eye-grabbing mobile showroom.
Paying homage to the 85+ year history of OTC, Bryan Fuller went in search of a 1930's era Ford delivery truck, eventually finding one in Mechanicsville, Georgia. It had been modified over the years, eventually making its way to being used in a mobile welding business. 
Once back in the Fuller Moto garage, Bryan and his team had the unenvious task of finding all the surprises that arise from disassembling an 80-year old vehicle. They discovered a gem, in every sense of the word. 
The truck was virtually rust-free, no doubt a benefit of it living all its life in the southern half of the States. 
Restoration work done over the years had the fenders, frame and undercarriage road-ready, with a bit of light sanding and custom paint needed to create the masterpiece. 
The interior? Another story. Tuck-and-pill velvet lined the inside of the truck, a throwback to the likely most recent update in the 1980's. Thankfully Fuller didn't have to dispose of shag carpeting, though they did find some interesting thatch-like covering under the roof. 
A well-running 302 Ford powered the delivery to speeds not thought of when it rolled off the assembly line. Not quite a hotrod, but certainly able to get up and go while carrying thousands of pounds of forged steel. 
The truck made its debut at SEMA 2016 in the OTC booth. If you didn't see the truck and Fuller at SEMA, check our Facebook page for plenty of before and after photos and a unique tribute to OTC, one of America's great tool companies.